In this current (and ongoing) project, I was tasked to "extend" the existing brand of the UT Austin GEAR UP program, a federally-funded project housed in The University of Texas at Austin's College of Education. GEAR UP is a national program designed to increase college readiness and provide career opportunities for students from low-income schools.
The UT Austin GEAR UP (UTGU) brand needed to stay connected to its roots (UT Austin and the related "Texas GEAR UP" program) and also be able to represent the five service areas that operate under the federal grant.
To maintain a visual connection with the University, I opted to retain the typeface used in the "UT Austin" portion of the original logo (GT Sectra is an integral part of the UT Austin brand).
I applied UT Austin's official color palette to the five "service area" logos to further underscore the connection between the program and the University and to begin developing a "visual shorthand" for those service area logos that can be extended to numerous design needs.
Finding inspiration in the existing logo from another GEAR UP grant with which UTGU is closely related, I developed a set of "alternate" logos for use in designs and layouts which struggle to fit the vertical rectangle proportion of the original "stacked" logo:
Anticipating the need for a "badge" style logo for use in social media, promotional collateral, and other layouts, I developed a third set of logo assets: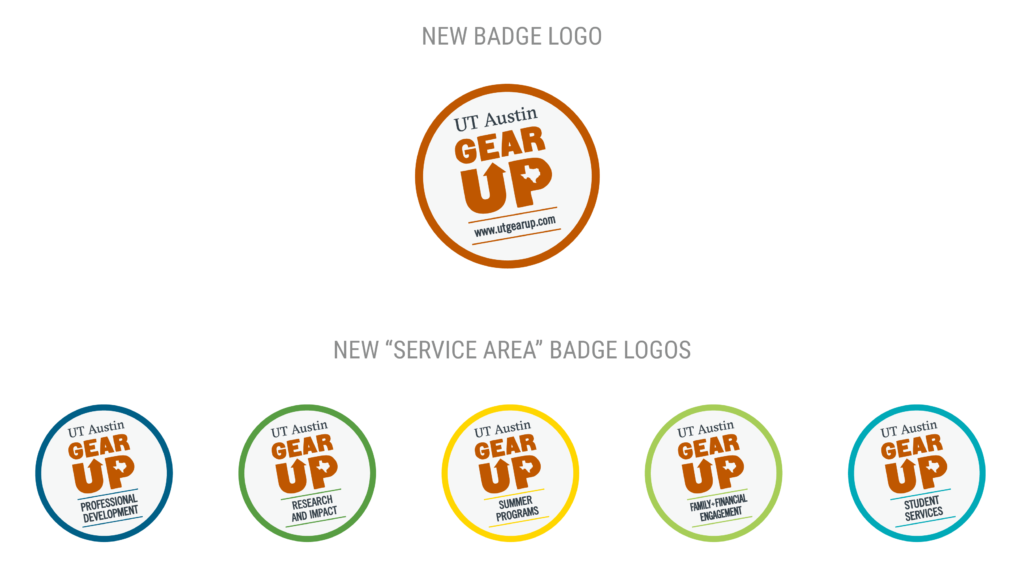 In terms of brand application to materials, some examples of recent work look like this (click images to expand):

On the UT Austin GEAR UP website, the extended branding system looks like this:
And on the UT Austin GEAR UP Professional Development (UTGUPD) online learning site, the extended brand identity looks like this:
In all, this brand extension has proven to be easier to apply across mediums than the previous, more limited framework and informative to those who encounter it.